I recently acquired a smartphone finally. I got hooked on "apps" after buying an iPod Touch. Eventually, I got tired of carrying around both a cellphone and an iPod Touch everywhere I went, so I broke down and bought an iPhone 4. Since then, the thing spends more time in my hands than in my pocket. I would say that I'm an addict. It's pretty clear. I've filled my phone with applications - mostly games - and none of them are doing much to enrich my life.
I managed to avoid getting hooked on Farmville and the drug war and mafia games people were playing all the time on myspace and facebook. I avoided playing them entirely. I didn't even know what they were about except that people who played them were annoying the shit out of me. It was one of my main reasons initially for disliking Facebook.
Well, they finally got to me. I've been months deep into these "games" on my phone before someone finally tells me that they are basically the same exact thing as Farmville type games. Resource management. Time wasting. Harvest. Get. Acquire. Grow. Expand. Work. It's like a job you don't get paid for. There's no gameplay value here and there's no winning.
On the iPhone, they are referred to as "Freemium" games - this is due to their being free games to play, but that you can purchase items in-game to advance faster. One of the games I've been playing has an item you can purchase that costs $100 in actual money. For that, you're buying fake in-game money that you can also earn for free relatively easily. I wonder who has paid. I wonder what their life is like.
Anyway - I decided to just briefly review a few games that I've been playing. Normally, I would be doing longer reviews, but my general review of these types of games - going all the way back to Sim City, Sims, etc... - is that they are all a good way to waste your time while feeling productive yet while not producing anything but sweeps of the second hand on the clock.
Lil' Pirates - Capcom - iPhone - 4.5/5
It's a cutesy pirate-themed resource management freemium game. There are four resources to manage:
Fame Points - these are used to level up.
Silver - this is easily obtainable in-game currency.
Doubloons - Rare in-game currency that you can purchase with real money if you aren't patient enough to wait to earn them.
Treasure - various trinkets that you can bury so they increase in value and ultimately sell for Silver.
The things you can buy with Silver and Doubloons are ship upgrades and outfits for your crew members. There are mini games built in (such as versions of simon, rock paper scissors, and a balance game) so you can send your crew members out on more missions for more resources. This is a game that will tie in with facebook so you can have friends - the more friends you have, the faster you advance in the game.
Overall, the game is admittedly fun in spite of the type of game it is. Addictive indeed.
Godfinger All-Stars - ngmoco/wonderland software - iPhone - 4/5
Lovingly referred to as "Dudes" by myself and my gf, this is a gem I've been playing for months. It's a simple god game in which you have a planet filled with little people you can set to task and generate cash and awe. Both items can be used to buy more buildings and decorations for the planet. It's simple and doesn't require constant attention. It used to crash often, but they've seemed to fix the technical issues for the most part.
Tiny Chef - iPhone - 3/5
Basic cutesy game in which you have a restaurant - people automatically come in to eat - your staff automatically serves them. All you have to do is cook various dishes and set them out to be served. If you aren't managing your time well enough, you will spoil your dishes and have to start over. There are two types of currency - bucks and cash - like any freemium game, you can pay actual money to buy in-game money you could otherwise get for free with patience. In-game money buys you different recipes and restaurant decorations and size increases.
I don't know that this game is actually fun, but I keep starting it up to cook shit for these starving bobbleheads.
Zombie Farm - iPhone - 3/5
You're a farmer and you plant both crops and zombies - with enough zombies harvested, you can attack other farms and battle their farmhands looking for brains. In-game currency is brains or cash. Like anything else, you need both to get upgrades and advance and decorate. It's mildly addictive. I basically only play this game for the battles, but they've honestly lost their shine. I'm losing interest fast. Still worth a download.
For the record, I haven't paid any actual money to play any of these games. These games are great to keep from having to talk to strangers while waiting in line somewhere.
Just remember if you plan to embark on this journey, these games are addictive as all fuck.
Print This Post
An Affair To Remember (1957)
Starring: Cary Grant and Deborah Kerr
Directed by: Leo McCarey
I had the distinct displeasure of catching this film the other night/morning when insomnia had gotten the best of me. I would like to know who the hell actually likes this film besides Meg Ryan because this piece of trash was excruciatingly awful.
Here's my summary:
A 53 year old Cary Grant plays a never married or employed philandering douchebag who is engaged to an heiress. He takes a cruise ship to Europe without his fiancee and meets a 36 year old lounge singing Deborah Kerr who is also engaged to be married for the first time and yet decided to take a romantic ocean cruise by herself. Together they cheat on their significant others and decide to hook up again once they both get jobs and are able to support themselves.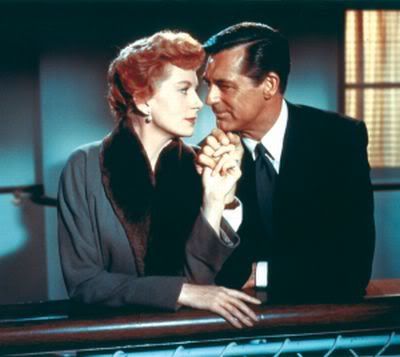 cheating sluts
The scandal of it all is treated more like naughty fun than a shitty thing to do. When they get back home, they tell their respective fiancées about it who both handle it like nobody in the history of reality ever would. "Oh, that's fine that you had an affair - I'll still love you and be your friend and be there for you to support you financially and emotionally while also helping you get together with the person you cheated on me with."
When the cheating whores attempt go to meet, she gets mauled by a car, ends up crippled and misses the appointment while Grant lurks around the elevator all day and night in the rain near the top of the Empire State building. When she doesn't show, Grant simply goes back to business as usual.

Why of course I'll introduce you to my grandmother that my fiancee hasn't even met - nanna is 130 years old.
She gets a job teaching homeless kids how to sing and it apparently pays enough for her to enjoy a high-rise New York loft with a housekeeper and Waterford ashtrays. I'm in the wrong line of work. Grant paints a few pictures that his agent says are crap except for one which he gives away for free, and he also paints a billboard and thus can finally afford to take care of her.
They see each other at a theater... both of them on re-conciliatory dates with their old significant others. Their eyes meet, and it's magic or something. The exes both once again decide to step aside and let their love blossom. In fact, Kerr's ex begs her to let him pay for leg surgery so she can walk back to him on her own two feet. Kerr declines and says she wants to pay for it herself. How noble. Grant still has no idea she's stuck in a wheelchair.

under the blanket are two lifeless husks - withered & knotty old broken tree branches for legs
He does some stalking and finds out where she lives. He goes to her house to give her his dead grandmother's blanket, and they have a boring conversation where he discovers she's a cripple and credits roll.
Eat my ass.
There are several scenes where someone is singing - either Kerr or a group of children. Every time someone sings, the film becomes unwatchable. The movie is practically a musical without the dancing or costumes. The story is absurdly ridiculous. It's dreadfully boring as well, and everyone in it is unrealistically horrible.
Okay - to be honest, I started watching about 15-20 minutes in, so I missed the beginning. Maybe the setup is what makes it so magical and amazing. I can't figure out what Meg Ryan was crying about in Sleepless in Seattle. There's nothing beautiful or romantic about flippantly cheating on someone you're engaged to be married to... unless you're some kind of fucking dick.
Print This Post