In the spring of 1989 shortly after turning 15 years old, I got to go see one of my favorite bands at the time (New Order) perform live at Mesa Ampitheater. It was my first concert ever. My sister took me and I was elated. I had been a fan of Joy Division and New Order for awhile and was swinging between the mod music scene and the punk music scene.
This was the Technique tour for New Order - their last good album as far as I'm concerned. The cover of that album was some sort of cherub statue in various combinations of technicolor negative art effects. Being that this was my first concert, I wanted a souvenir to take home... why not a t-shirt? Of course, shirts were somewhere around 30 dollars and were shitty silkscreens on Hanes Beefy Tees that cost them 3 bucks to produce. Quite a markup, but what did I care? Can you even put a price on such a thing?
I probably could've gotten a gray shirt with simply New Order on it and a picture of the cherub statue on the back, but NOOOOO...Being 15 and being that it was the late 80s, I of course opted for the faggiest queer-mo shirt I could find. I present to you my New Order shirt:
A fucking Rainbow Flag. What the hell was I thinking? I want a time machine so I can go back and kick my own ass. And take a look at the craftsmanship here - it's not even fucking remotely straight... in any sense of the word...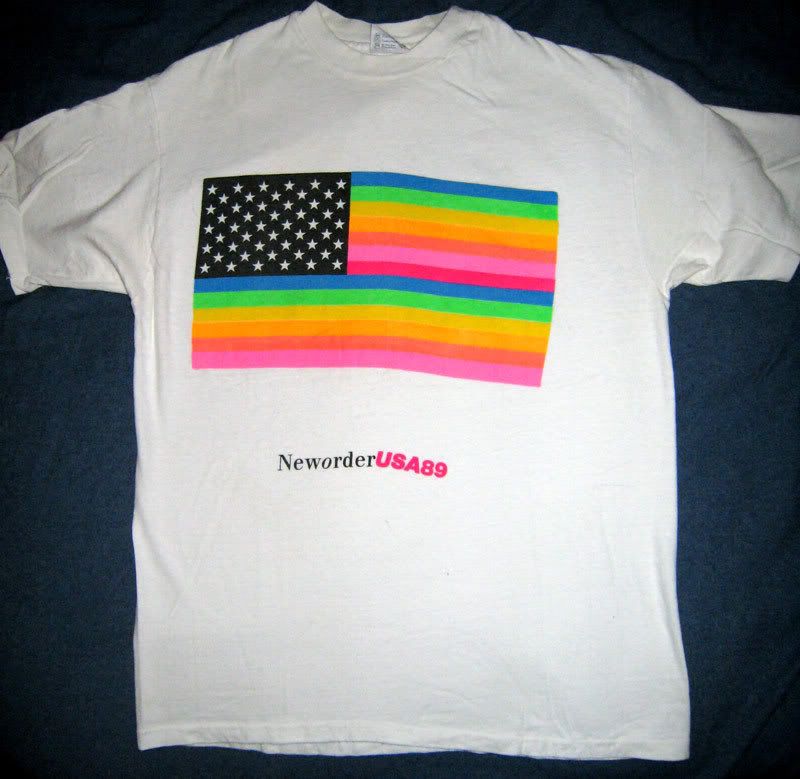 But it didn't stop there... over the next year or so, I attended many concerts and collected many shirts. Each one gayer than the next... Here's my Depeche Mode shirt from the Violator tour:
Nothing gay about that, right? Just a bunch of heterosexual men on a t-shirt wearing tight pants, grabbing themselves, and arms around each other in a completely heterosexual embrace. Totally appropriate for a 16 year old to wear to school and proudly display his support of such a thing. Oh sure, I could've gotten the simple blue rose with DM next to it, but NOOOOO - I had to get the gayest shirt ever. And here's my Cure shirt... gay from both sides: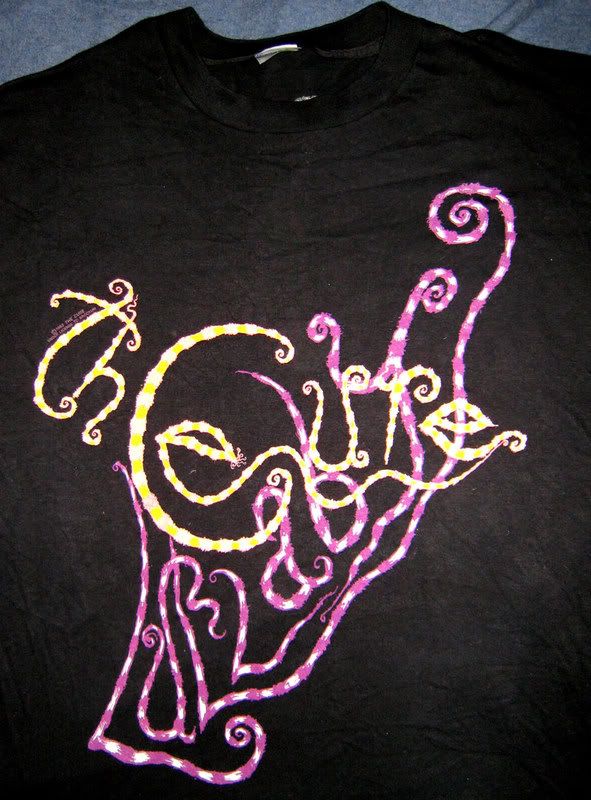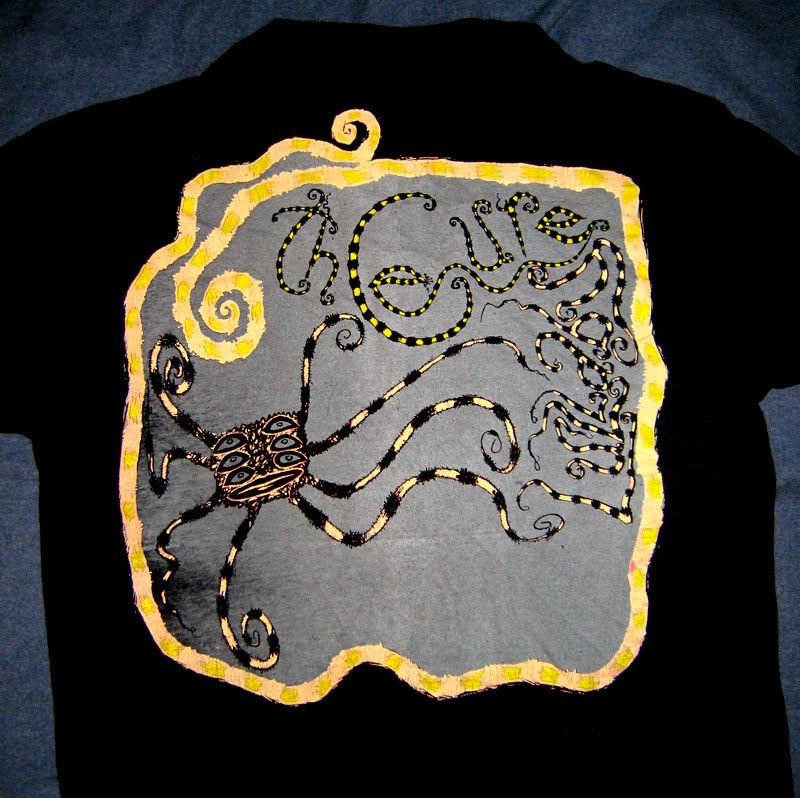 I also have a gay REM shirt and a gay They Might Be Giants shirt among many other gay shirts foolishly purchased around that time. Most of them were unwearable anyway because the fabric was thin and shitty or because the shirt was ugly and, well... gay. I'd post a picture of myself from that time so you could see what we're dealing with here, but I think this is embarassing enough for one day.
~~~~~~~~~~~~~~~~~~~~~~~~~~~ EDIT ~~~~~~~~~~~~~~~~~~~~~~~~~~~
Ok - fine... not embarrassing enough... here's me sporting my ultra-queer shirt with a glamorously gay star-trek lighting effect making a kissy face. This should about cover it. If there was ever any question of my sexuality - let it be known...
~~~~~~~~~~~~~~~~~~~~~~EDIT~~~~~~~~~~~~~~~~~~~
So it would seem that Tony Wilson (owner of Factory Records and the man who basically discovered Joy Division) died the day I posted this (August 10 - I know it says 11th, I post dated it because of my OCD) at age 57. Quite the coincidence considering I wore my Joy Division shirt today as well and didn't even recognize the name when it was said to me numerous times. Someone had to explain to me who he was in order to remind me.
Tony was diagnosed with advanced cancer earlier this year and his doctor recommended an expensive drug not covered by the healthcare system. His friends and family started a fund to help pay for the treatments... ultimately (and perhaps ironically) he died of a heart attack. I suppose I owe a lot to him - his influence on music that influenced me was profound. I know some of my friends were even more bummed out by the news. In honor of Tony Wilson, I thought I'd post one more shirt - the one I wore today...
Print This Post
Enjoy this article?
Calendar
August 2021
M
T
W
T
F
S
S
« Oct
1
2
3
4
5
6
7
8
9
10
11
12
13
14
15
16
17
18
19
20
21
22
23
24
25
26
27
28
29
30
31
Visit These Sites Too
Archives
Tags